All the Vicious Women!
The German Song in Queensland
German and 'broken' German-Queensland songs are a relict of the pioneering heritage of the 'very German' regions of southern Queensland – particularly the Lockyer Valley – the heartland of the German pioneers and their customs and traditions.
Unlike the hundreds of nameless tunes that still persist to this day, 'German' songs were far less common. Until the 1950s many older Lutheran congregations sung their beautiful hymns in German. I was lucky enough to receive a cassette tape made about 20 years ago of the older members of St Paul's Lutheran Church congregation in Toowoomba singing a number of old hymns in German. Many older folk learnt German hymns and snatches of German song verse when they were young (say pre 1930s). One of the favourite hymns, often sang in part harmonies, was 'Gott ist Liebe' (God is Love).
The German love song, 'Du, du liegst mir im Herzen' is still recognized and admired by many 1st or 2nd generation German descendants.
The boundaries between German classical, popular and folk was blurred in the past and songs from varying origins were sung with equal joy and gusto. For instance, the classical 'Die Lorelei' and 'Schon ist der Jugend' were often sung by folk who also sang 'Muss ich denn', who might then sing the old folksong favourite 'Trinken noch ein Tropchen'. In other words people sang a variety of songs from various origins and genres.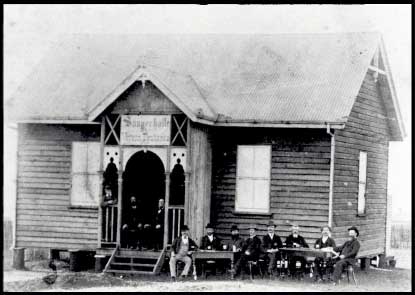 The old Toowoomba 'Sangerhalle' – the Verein Teutonia – centre of song, wine and merriment for the German males of early Toowoomba.
Although today very few people remember more than a verse or two, the song tunes still persist. In the Lockyer valley many older accordion players remembered the tunes, and some words, for 'Wenn der Schneider reiten will', 'Hamburg ist ein Schones Stadtchen', Lott ist Tod' and the very old song 'Im der Jahre Sechs und Sechzig'. This latter song, translated as 'In the year 66', describes the demise of 'the little and the big' – a reference to the Black plague that swept Germany in the 16th Century. Norm Boughen, accordion player and gentleman bushman, sung this song and played this tune for me in Minden. A particularly 'lusty' song was 'Fraulein Backhaus', but it was near impossible for anyone to sing me this particular, very humorous and bawdy, song.
Most of the Queensland-German songs were sung in standard (high) German, however a few 'Plattditsche' (Plattdeutsch – Low German) songs have been unearthed. One of the favourites, was sung as a wedding song in the Logan, Lockyer and maryborough (Wide Bay) areas. Called 'Dree Oxen', the first stanza commences with the words:
'Dree oxen, vier Pferd un eine Puukalisch kuh' (spelt as pronounced)
On the Binjour Plateau and at Malmoe, in the central Burnett district,  a particular favourite of the Apostolic Church of Queensland German settlers and their descandents is a German song that they call 'Schwiegermamma' (mother-in-law).  This song is based on the German folkloric song 'Es War Einmal Eine Mullerine' (there Once Was a Miller, or To Wander is the Miller's Lust).  The refrain of this catchy song goes as follows:
"Und wer, und wer, und wer hat Schuld daran;
ja das war die bose Schwiergerma ma ma, Schwierger ma ma ma, Schwieger ma ma ma;
Ja das war die bose Schwiegerma ma ma, Schwieger ma ma ma, die hat Schuld daran."
What of the supposed existence of a regional German-Queensland folksong tradition, or regional variants from German song traditions? The Australian author and folklorist Nancy Keesing in her autobiography 'Riding the Elephant' mentioned the possible existence of a class of songs referred to as "German bush" songs. Unfortunately, Nancy never explored this topic any further.
One of my many good musical acquaintances, George Heise, tells me of the parody to the old German 'dittie' song Have Another Drop (Trink mir eine tropchen), the first line of which is: 'Alle fische schwimmen' (All da viscious women!!!)
The full text of this little German 'folk song' is given below. It was particularly popular amongst the Apostolic Church of Queensland communities of the Lockyer and Upper Burnett regions, and is still remembered by many of these older folk today.
Alle Fische Schwimmen
Alle Fische schwimmen,
Nur der kleine Backfisch nicht!
Refrain
O Susanna, wie ist das Leben wunderschon!
O Susanna, wie ist das Leben schon!
Alle Mopse bellen,
Nur der kleine Rollmops nicht!
Alle Bocke springen,
Nur der kleine Holzbock nicht!
Trinke noch ein Tropchen,
Aus dem kleinen Henkeltopchen!
Alle Belle bellen
Nur die kleine Schnotbel nicht!!!
Below is a  'German' dittie which is a very old song, once well known in the Marburg to Minden area of the eastern Lockyer Valley. The tune for this old song is used by local button accordion players as the fourth figure of the Lancers (an old set dance). My older accordion playing friends from Minden, Ron Kerle and the late Norm Boughen explained in detail the double-meaning of 'Wenn ist der Himmel Blau' is that BEWARE at dances – the handsome young man who may dance with your young wife! Oldtimer Ted Engel of Forest Hill related many incidents at dances that would make many parents hair stand on end and I'm sure dances were the centre of many community talking points in earlier, and more recent, times in rural Queensland. As the old Lutheran Pastors would say to the young ladies in their congregation, 'beware the young men at dances, many have cloven feet in appearance of a handsome man, but are in fact the devil in disguise!'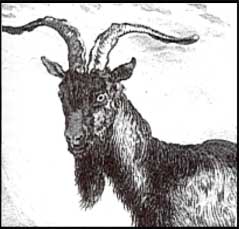 Der Ziegenbock!!!
'Wenn ist der Himmel blau
wenn ist der Himmel blau
den tanz der junge Ziegenbock
mit seine junge Frau.'
(When all the heavens are blue,
when all the heavens are blue
then dances the young billygoat
with your young wife.)

German songbook produced by Pastor Fuhlbohm, Toowoomba
Vortter Vittekopf' – Searching for the Words and the Meaning
Stan and Norm Zabel, long-time residents and yarn-tellers of the Prenzlau district, often request me to play the popular Lockyer Valley 'German' tune termed 'Vorrter Vittekopf' – translating into 'Father Whitehead' (Father Christmas? Or Old Man?). Many of the older folk from the Lockyer know a few words to this old dance-song and gladly recall the hilarity of their parents singing and dancing to the ditty. When I happen to play for any historical or heritage event or reunion in the Lockyer Valley at least one of the oldtimers is bound to request this tune or song. My friend Carol Wernowski knew the tune and a few words as a girl growing up in the Boonah district. Les Moreland of Kenilworth, an authority on German-Queenslnd communities and customs, sums up the situation by saying:
'The good old Vortter Wittekopf tune. That would have to be the most loved tune of German communities that there is. They love it – and it's the most marvellous tune. If there was a dance on the verandah, or something, that would be the first one to play. Also right throughout the night, but that would always be the first one. Everyone would want to dance '"Vorrter Wittekopf". Even my Grossmutter, who would have been born in the 1850s, did that dance when she was a "junge madchen" in Germany.' (from Les Moreland, Kenilworth)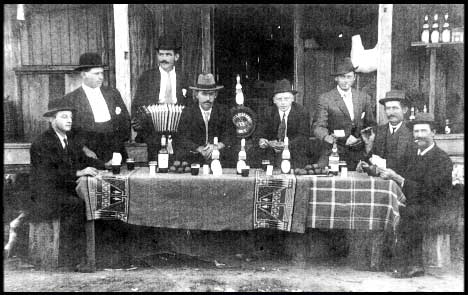 'Wine and song at Minden' – newchum settlers relaxing, Ben Kerle seated left of centre.