German Brass Band Traditions
'The Toowoomba German Band had a practice hut strategically placed in Flegler's vineyard, no doubt to make the lubricating of the players' tonsils easy when the needs arose'  Photograph shows Herr Frederick Kretschmar, famous Toowoomba bandsman in the centre back of the picture.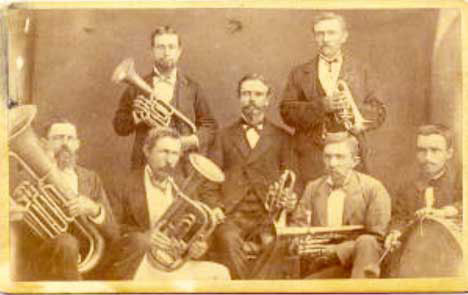 (from the late Erich Volker, unofficial historian of the Middle Ridge farming community)
In prior times, particularly in the late 19th Century and into the 1950s, every rural and town settlement in southern Queensland with German pioneers or descendants had a strong brass band tradition.  Indeed there were also travelling 'German' brass bands who roamed the countryside providing entertainment for rural citizens.
Some of the German bandsmen often formed the mainstay of circus entertainment.  For instance the well-known Wirth family of Dalby had their own travelling brass band.  Johann Wirth instigated the German Band and later this band supported the 'Greatest Show on Earth' – Wirth's Circus.  Johann, with his two brothers, Peter and Philip, were brass musicians from Jettenbach, Bavaria.  Arriving in Port Phillip in 1855 they worked and played for many years throughout inland eastern Australia.  In 1867 Johann bought land in Dalby and he and his wife erected a hall where he gave music and dance lessons.  Ashton's Circus passed through Dalby in 1870 and engaged him and his sons John and Harry, and later the younger Philip and George.  They travelled extensively throughout the inland.
In my hometown of Toowoomba German brass band traditions ruled the popular musical traditions and provided extensive entertainment programs from the 1860s well into the early 1900s.  Johannes ('Pop') Mutze; Fred Kretschmar and the Muller dynasty (Gustav, Gottlieb and Heinrich) were all influential bandmasters and brass players in the early Toowoomba brass band scene.  Often these bands played extensive concert programs and for dances at either Hartmann's gardens or Roessler's Crown Gardens in the Middle Ridge wineries on a Sunday afternoon – where a bottle of German-grown wine and a German wagon ride back to town could be procured for a shilling!  Such was the interest in brass bands that when the famous American brass band composer and conductor John Philip Sousa and band visited Toowoomba in 1904 there were band competitions and processions throughout the town for 3 days – and the music-loving public was mesmerised with this treat.
Further afield the brass band traditions were developed and maintained within both the rural Lutheran Church communities and by members of the staunch Apostolic Church of Queensland.  In the Lutheran tradition the Eagleby, Bethania and Boah Peak (Darling Downs) brass bands were reknowned for their skills and repertoires.  The Apostolic Church of Queensland, well grounded in German secular and religious musical traditions, had its premier brass band at the Hatton Vale community, centre of the faith in Queensland, with other brass bands located in the pioneer communities at Pimpama, Mt Beppo, Tansey and Binjour Plateau.  Extensive selections of marches, waltzes, German medleys and popular music were played by the Hatton Vale band.  A number of conductors have mentored the Hatton Vale Brass band over more than a Century of playing and today Malcolm Reck leads this ever popular band at both Church and community events.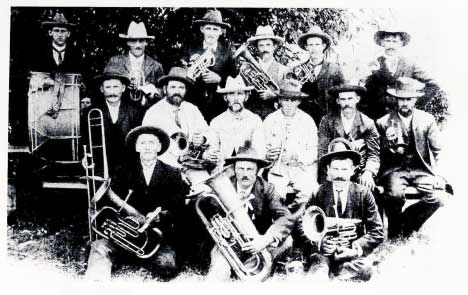 Legend or Fact: Goonoo Goonoo or Boonoo Boonoo, Thunderbolt and the German Band
It is fascinating how the boundaries of truth and untruth often meet, get mixed up and then legends really begin.  The real story of the bushranger Thunderbolt (alias Frederick Ward) and the 'German Band' illustrate the stuff legends are made of.  The skeleton of the bushranger "Captain Thunderbolt" and the German Band story is summarized below.  The late Hec Muller, famed brass bandsman of Toowoomba, claimed his grandfather and great uncles (the Muller bandsmen) were bandsmen for and with the Wirth brothers Circus and were actually those 'bailed' up by Captain Thunderbolt.
(At this time, the 1860s, quite a lot of German bands travelled around the Australian countryside, earning money by performing in different places.)
One of the stories told about Captain Thunderbolt was  that he stuck up a German band at Goonoo Goonoo Gap (north-central New South Wales), and made the Teutons play for him, besides giving him their money. The story has become so twisted that some versions indicate the site of the 'bailed up' episode was Goonoo Goonoo (near Tamworth) whereas other versions cite the area as Boonoo Boonoo (northeast of Tenterfield)!  In addition, other versions of the legend cite the case of the whole German band being sent the money and a number of German bandsmen lay claim to being the German band in question. The most detailed version, cited by author Annie Rixon in her book, 'Thunderbolt: The True Story of the Beloved Outlaw', is reproduced below:
'They then went to Wellingrove, stuck up the store there, but only received fourpence.  Things were getting very desperate, for they were nearly penniless, when they encountered a German Band, consisting of five performers, who had only thirty shillings between them.  They begged hard that their money should not be taken, for they had so little, and their wives and families would suffer.
Thunderbolt commanded them to take up their instruments and play for him.  "Play 'Her Bright Smile Haunts Me Still' softly and slowly," he ordered, and when they had played several times to his satisfaction, he made them play "Sweet Alice Ben Bolt" and then "Home, Sweet Home."
"I haven't had the opportunity of listening to good music for many a long day," he told them as he walked up and down before them, his arms folded across his broad chest, his mind wrapped in painful thought.  Though the Germans displayed some nervousness, they played with amazing skill.
What strange thoughts must have passed through the outlaw's mind as he listened.  Never had a band of musicians such a strange audience; surrounded by primeval forests, with the bright sun streaming down upon them, and God's blue sky above.  What memories did the familiar strains recall to the listeners?  ……  "Play it once again, more softly still."  He leaned against the butt of a huge white gum tree, as with eyes closed, and his body swayed to the rhythm of the music, he listened.  When they had finished he thanked them, handed each man his money back; then, with all the grace of a courtier, bade them good-bye.
The Germans proceeded on their way convinced that Captain Thunderbolt was a gentleman and not the ruffian he had been described as by many people of that time.
Thunderbolt and his boy had not ridden far when they encountered a single horseman.  They pulled up and began a conversation, soon discovering that this man was also going to the races at Tenterfield.  Deeming it probable that he had a fair amount of money on his person, Thunderbolt suddenly presented his revolver, demanding that he should bale up.  The man, who gave his name as Philip Worth, was forced to hand over his money, also his horse.
"Why don't you wait for 'The pelican?'.  He won the Maiden Plate at Tamworth races yesterday, and will be along presently.  I saw him at the pub at Ben Lomond as I passed," growled Worth.
"Ah-a!  That is good news, and if it proves to be true and I get his cash, I promise, on the honour of a gentleman, that you shall get every penny of your money back.  What is your address?" demanded Thunderbolt.
"Philip Wirth, Toowoomba, Queensland, will always find me, and don't you fergit it!" snarled the disappointed man, as he stood sullenly watching as they rode off…….  True to his word, Thunderbolt sent Philip Wirth the £50 which he had taken from him, before retiring into the ranges for another three weeks.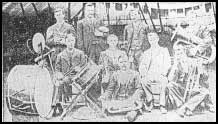 Wirth Circus band, including Wirth and Muller bandsmen
VON SCHLAMMER!
Who vas dat man, vat all alone,
Blayed solos on his big drombone?
Von Schlammer!
Vhen Yosephine, across der vay,
Shmiled vhen shee see dat drombone blay,
Who blayed soom variations gay,
Dhen vhassed his hand und valked avay?
Von Schlammer!
Vone summer's day, at dead of night,
Vhen Yosephine put out  her light,
Und moons und sthars vas shinin pright,
Who blayed some tunes mit all his might
To fill dat maiden mit delight,
Und killed us all shtone dead mit fright!
Von Schlammer!
Who pulled him out der shveet refrain,
Of dat old song, "Mine breedy Yane",
Und blayed mit all his might und mane
His Yosephine to entertain,
Till poots und shoes fell down like rain,
Und knocked dat drombone in der drain?
Who picked it oop, und blayed again?
Und kept on blayin' all in vain?
Von Schlammer!
Vhen all der neighbours curse und shvear,
Mit vords so hot dhey scorch der air,
Vhile dat drombone keeps on to blare
Because Von Schlammer didn't care;
Und Yosephine, dat maiden fair
Shleeps peaceful like soom paby bear –
Vhen all der peoples out did tear
Mitout much clothes on dem to vear,
Vhich left some parts of dem quite bare –
Who, vhen dey found him, vasn't dhere?
Von Schlammer!
Vhen all der red-hot words vas said,
Vhen each man vent him backs to ped
To lay him down his veary head,
Und vish Von Schlammer ten dimes dead,
Who vas it, mit fear und dread,
Mit tremblin' limbs und sthealthy tread,
Ash if his poots vas soled mit lead,
Coomed shneakin' from pehind a shed,
His thumb shtuck on his nose so red,
Und out his leetle fingers sphread –
Dhen, vhen soom leetle time had shped,
Blew vone ear-crackin blast – und fled!
Von Schlammer!!!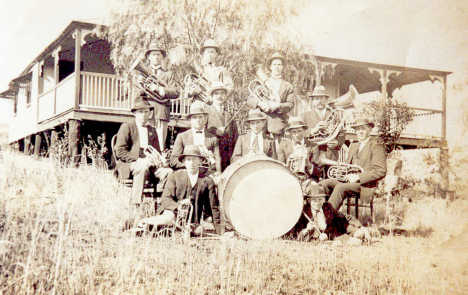 Photograph of the Apostolic Church of Queensland band from Tansey, north of Goomeri.  This band would often travel as far away as Bundaberg –using wooden benches for seating in the back of a tray truck!
What a hard ride.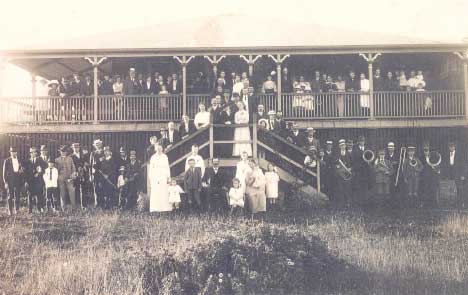 Photograph showing the Mutze family house, located on the current site of Toowoomba airport.
Jack Mutze and wife on centre of the stairs.  Note the brass bandsmen.