Publication of "Queensland's German connections"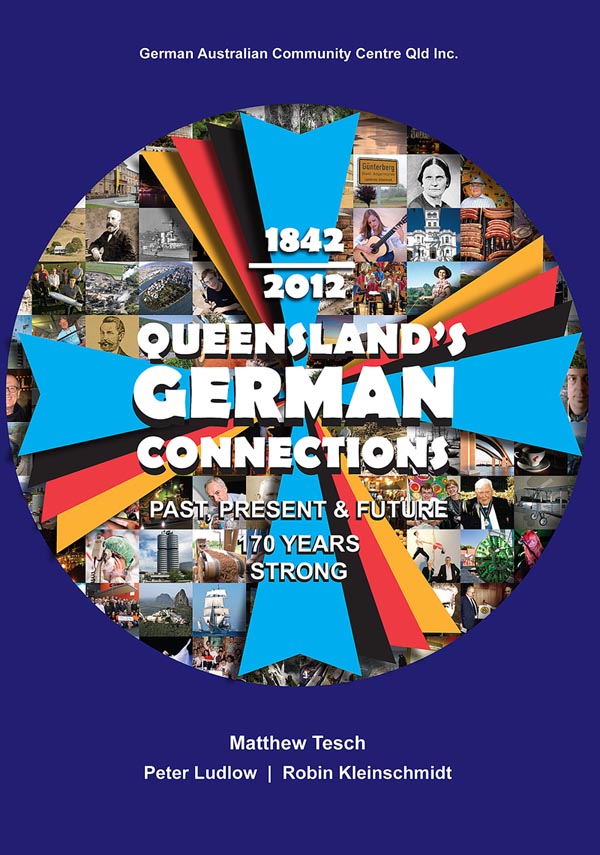 This three-year project has come to fruition with the publication and official launch of the bookQueensland's German connections: past, present and future – 170 years strong (1842-2012).
A magnificent, full-colour work with almost 600 illustrations in its 376 pages, the book examines a broad range of topics and themes with the common thread of 'Queensland's connections with Germany'. It ranges from stories of the first immigrants in the 19th century, across the social, cultural and economic contributions they and their successors have made, to the shared collaborations of the 21st century, investigating bio-fuels and hypersonic flight.
Led by project manager, editor and graphic designer Matthew Tesch, the team includes historian Robin Kleinschmidt – both descendants of 1860s arrivals from Hamburg – and noted Queensland Moreton Bay historian Peter Ludlow, with Kim Schusdzarra contributing to the many maps.
Hallmarked by messages from the Governor of Queensland, Australia's Foreign Minister, the German Ambassador and German Consul-General, Queensland's Premier, and the state's Multicultural Affairs Minister, this unique book is an absorbing read and a perfect Christmas gift.
To order your copy please go to the German Queensland Community Centre QLD website at www.gaccq.org.au
Comments from readers:
"What a triumph! I haven't been able to stop turning pages –
It's more an encyclopaedia than a book."
"Fantastic product; no wonder people are just getting absorbed in it."
"Extraordinarily informative and interesting and very accessible to a general reader."
"A wonderful publication – the format is spectacular – brimming with information and visually exciting."