ANDY – A Tribute to my dear late friend, Andy Grant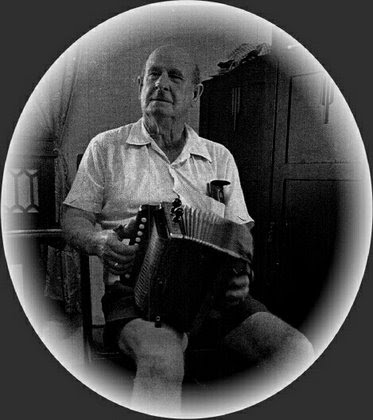 Andrew Gilbert Grant in reflective pose (photograph by the late Lionel O'Keefe)
Is it really possible to convey to you, the reader, the many aspects that makes a relationship alive, the smiles, the laughs and the good times spent in great company? After many years I wish to at least try. It is a task I never thought I can do justice to.
Rather than the skeletal facts of a person's life – that is birthdate, age, place of birth – which are bare bones of a persons earthly existence – I want to write about the real person – the person that was Andy Grant.
Back in the depths of 1984 I shifted to Canberra, with my then wife Maria and our baby boy, Nicholas. I, like many others in search of a secure job, joined the Australian Public Service, and put up with the bone-chilling cold, bleak winters in our national capital. At this stage I was becoming obsessively fascinated by what could be termed 'real Australian folk music, or bush traditions', and was starting to learn the button accordion (squeezebox).
One day whilst visiting some younger traditional musicians who were having a musical 'session', I met Sharon Doro from Dalveen, north of Stanthorpe. She implored me, on my next visit back north, to 'drop in' on an older gent named Andy Grant who lived in Warwick, southern Queensland. Andy was a font of information on accordions, Australian traditional music and had a massive 78rpm record collection that over the years many people used as a resource.
Well just two months later, on a very crisp Warwick winter morning I knocked on the door of Andy's small weatherboard house, in Grafton Street, only a stones throw from the old Warwick Railway Station. A slightly portly balding gent greeted me – the type of older man who could easily pass for a long-term relative. He had a twinkle in his eye and welcomed me in, taking me straight to the kitchen where the kettle was on the boil. Many hours later I emerged back into the pale sunshine – enlightened about accordions, bush music and keen as mustard to start my quest into the Australian 'bush music' scene. The first tune I learnt from him was the 'Oslo Waltz' (some folk call it the Kristiana Waltz) from the Regal 78rpm recording by Gellin and Borgstrom. It took quite a few months to perfect and Andy was 'tickled pink' when I finally mastered the tune and called in to play it for him.
Like myself, Andy was interested in history, music and people. For the next fifteen years he became a mentor, family friend and someone to talk to about all the many things life throws at us. His informal 'teachings' made me the person I am today – the wisdom he imparted became my rock on which to plant my views of our unique 'bush music'. He became like an Uncle to my four boys, a great family friend and would often stay with my family on his frequent trips up to Toowoomba. Often he would visit on the daily Crisps bus run from Warwick with his childhood friend Elva Schnitzerling and we'd have lunch at the Toowoomba RSL, beside the City Hall in Ruthven Street. In true German-Queensland tradition Elva would always order 'steak mit chips'.
Andrew Gilbert Grant was born into the rural township of Oakey, west of Toowoomba on a cold winters morning in 1914. Like many Darling Downs folk, Andy was the child of a father of Scottish origins and a mother of German descent. Andy's mum's father was from the Bausch clan from Kulpi and her mum was a 'Kleidon' from the Lockyer. His musical tastes also reflected his 'bitsa' multicultural origins!
His Dad had worked on the construction of the Oakey – Cooyar rail line during the Great War years. Andy was schooled in Oakey, before the family shifted to Warwick – where Andy spent the bulk of his long life. Much of his earlier life was spent as a fireman on the steam trains in southern Queensland, with a long stint in Main Roads in later years prior to retirement. Andy often told me of his gruelling job during the war years – 'firing' the troop trains on the Sunshine route between Brisbane and the tropical troop towns of Townsville and Cairns. Work as a fireman on these troop trains was tough and demanding – both physically and mentally. Perhaps his job was just as strenuous as the necessary mettle required by the men he was ferrying ever northwards to ascend mountains and fight against the Imperial Japanese Army in the rugged Owen Stanley Ranges and protect our lucky country.
Throughout his long life Andy was also interested by popular and folk (traditional) music of Australia and the world. Over his life he amassed a huge collection of 78 rpm records – perhaps 5,000 all up. Their musical range was all encompassing – brass band, popular, jazz, blues, ethnic music of Europe and the Americas, American hillbilly and old-time, early Australian vocal, hillbilly and of course many hundreds of early discs of accordion and concertina virtuosos and ensembles. His mammoth collection was perhaps the most diverse in Queensland, if not Australia. After Andy's death I inherited the bulk of this huge collection and still have most of the discs in my possession.
For years I was so fortunate to have Andy was my private tutor on button accordian and he watched and appreciated as my confidence and broad taste in music grew and then blossomed. Years passed and I would always call in at his hospitable little weatherboard house at 36 Grafton Street Warwick for a cuppa, a yarn and a few quick tunes – it was a welcome break for my local government work with twelve local councils, including Warwick City Council on the southern Downs. He was also a wizard at making his homemade sauerkraut – learnt from his German-Queensland aunties from 'down in the Lockyer'!
Andy was always more than willing to assist the few younger players coming through and he was an excellent and understanding mentor for a number of younger traditional players. For years he would comb the second hand shops of Brisbane for accordions, concertinas and his beloved 78 records.
As we all know all good things come to an end. In the late 1990s Andy had a prized concertina stolen from his house and no-matter how hard he and many others searched it never 'came to light'. Although Andy battled on he and he seemed much the same in many ways I feel that event strongly affected him.
Andy was found lying dead in his house in late November 1999 and he was mourned by many at his funeral and musical wake. However, his memory lives on in the hearts of his many dear friends – and in the traditional tunes we still play. Just one of the many tunes he learnt from the many older players and 'passed on' to his younger friends is shown below – Bert Bretz's Polka. Andy had assured me that this old polka tune had been played around the barns for dances in early Warwick and was a favourite of many of the local players.