Ringing Strings of the Burnett:
The German-Queensland
Zither Tradition
For more than two decades I have sought out and recorded the unique German-Queensland musical traditions of the farming communities in southern Queensland.  I had the wonderful opportunity to savour and record the 'tail end' of a once enormous tradition of largely accordion-based dance music of the scattered farming communities throughout southern Queensland.  These traditions had been kept alive, in both dance music and song, by the descendants of the many German immigrants who pioneered the Queensland bush districts from about 1850 until the First World War.  Each farming area had its own players, and a unique regional button accordian repertoire – which I avidly recorded while the older players could still remember and perform these musical gems. Although fiddle or violin musical traditions were sometimes unearthed in this region, they were uncommon compared with New South Wales and Victoria, there had been fleeting mentions of  long-lost 'zither traditions' amongst the German farmers.
The 32-stringed board-based instrument can be considered as the iconic instrument of German and Austrian musical traditions and today this instrument is still considered at the pinnacle of European musical culture and sophistication.
I had seen mention to an elusive zither band tradition in the book 'Who Wrote the Ballads' by the noted Australian folklorist John Manifold, with a teasing sentence on this lost tradition in the Burnett district of southern Queensland.
One steamy hot and humid December Saturday afternoon in 1988 I drove into the coastal town of Bundaberg, hoping to find more unique 'German' tunes and songs.  By midnight that very evening I had immersed myself and heard with my own ears remnants of that 'lost' tradition – the Apostolic Church of Queensland zither bands of the Burnett region.  I was lucky to find a gentleman by the name of Don Leisemann who hastily organised the Bundaberg String band for my listening pleasure that very evening!  Mandolins, violins, guitars, double bass and at the centrepiece – the zither.  The zither master was an old gentleman by the name of Robert Pukallus and over forthcoming years a number of visits to his house let the lost tradition be unravelled.
The next year, whilst staying in the town of Munduberra I made the acquaintance of Vera Wolf whose mother-in-law had played the instrument. Vera kindly gave me a copy of a tape recording made by in the late 1950s by her Dad, Willi Kuhn, of local German musical sessions and concerts. This tape had only recently been obtained from a university archive in northern Germany.  I was fascinated by the material I heard, but when I heard a number of local zither duet pieces, with guitar accompaniment, I was stunned by their musical beauty and the mastery of the complex instruments.  These were fantastic tune arrangements made by a pair of 'meister zither kunstlers' (master zither artists) from the Burnett district, the father and son-in-law duet of Paul Ohlson and Robert Pukallus – who I had interviewed and recorded previously in Bundaberg.  Now the jigsaw was being pieced back together!
For the next ten years work on completing that puzzle was undertaken.  Many miles were travelled, tunes were unearthed, recorded material collected, sheet music and instruments were acquired, people were interviewed and the zither tradition story was now partially in the frame.  In particular, Priest Ray Greinke, from the Apostolic Church of Queensland, based at Oxley, was very forthcoming with recorded material, contacts and zither history and techniques.  In many ways Ray was the last of the older players and he had observed much of the Queensland tradition in both city and country.
Unlike the accordion-based musical traditions of the Lutheran Church folk in southern Queensland, the zither and zither-band tradition was based around the Apostolic Church of Queensland and its settlements.  Founded by the German apostle Heinrich Niemeyer at Hattonvale in the Lockyer Valley, the Apostolic Church of Queensland sponsored many German immigrants to southern Queensland between 1909 and 1912.  German settlements were formed throughout rural southern Queensland.
The major Apostolic communities were at Hattonvale, Ropely, Pimpama, Mt Beppo, Tansey (near Goomeri), Binjour Plateau, Riverleigh (O'Bil Bil), Maryborough, Baffle Creek (north of Bundaberg) and Bundaberg.  Musical band traditions, for both Church and pleasure, were important for the Apostolic Church of Queensland communities.  Both Hattonvale and Mt Beppo have boasted excellent, long-standing brass bands, who often travel large distances to entertain the general community.  On the other hand, the string band tradition, based around the focal instrument of the zither, was developed and fostered in the Mt Beppo, Binjour Plateau and Baffle Creek/Bundaberg communities.  Some well known and respected Zither 'masters' in Queensland included Hermann August Gaedtke (Mt Beppo), Florian Ziegelscheck (Binjour Plateau), Philipp Netz (Mulgildie), Gus and Otto Kamradt (Maryborough), Albert Kaeser (Brisbane) and a host of good players from the Baffle Creek community. The older zither master Florian Ziegelscheck later retired to Maryborough and became the 'local' zither repair technician and mentor to Burnett zither players.
Settling in the area in 1909, the Baffle Creek string band was formed  in 1919.  Zither players in the original ensemble were Erich Pfennigh, Otto Richter, August Scherer, Ernst Pohle, Erich and Hermin Otto, Mr Plotzski, Mr Schifke and Paul Ohlson.  At a later stage Enoch Josephski joined the band.  Most of the players had learnt their instruments in Germany, prior to migrating.  Accompanying instruments have always been violins, mandolins, guitars and cello or double bass.  The band was formed soon after the group arrived in 1909 and they played for local church and community functions.  Both instruments and musical scores would arrive by ship cargo from Germany.  After a number of years there were four expert zither players and the young player Paul Ohlson became a dedicated zither master over many decades.  He later led the string band which shifted from Baffle Creek to nearby Bundaberg with the shifting of the local community over time.  During the bands heyday, Robert Pukallus married Paul Ohlson's daughter and he became a major zither player in the long tradition.  Paul Ohlson was a very talented zither master and over his lengthy playing life composed a number of zither masterpieces.  These tunes eventually made it back to Germany and I have been told, on a number of occasions, that his compositions were considered as master works in a long standing European cultural tradition.  I was told that Paul and his son-in-law would come in from their mornings work on the canefarm, have lunch, then practice zither for a few hours.  In the evening, again after the meal, another few hours with the zither.  His son Otto mentioned that his Dad Paul even played at the hospital just before he passed away.
In addition the growing city of Brisbane was not without its players.  In 1989 I was scavenging through the antique shop 'Discovery Corner' in suburban Brisbane and purchased an antique zither and accompanying hand-written sheet music.  The zither belonged to Robert Muller of Kangaroo Point, who in the late 1890s and early 1900s was a well known member of Brisbane's Teutonia Verein (German Club).  Further research revealed that Albert Kaeser, who owned the music shop Kaiser and Hettrich in George Street Brisbane, was a reknowned zither master, who taught a number of pupils, including Ray Greinke.  In addition Albert Kaiser was a long standing member of the Brisbane Municipal Band.  Herr Hettrich's daughter, Mrs Wood, lived at Sherwood, Brisbane, and in the 1960s hosted small gatherings and musical sessions of local zither enthusiasts, including Ray Greinke and his mentor, the old master Albert Kaeser.
Over the years I heard stories, and collected transcribed zither music from other Burnett region masters.
Like the European zither tradition, the Queensland tradition has added to a vast repertoire with many local compositions from a number of master players.  Florian Ziegelscheck composed the 'Flora Walzer',  Robert Pukallus the tune 'Walz Inspiration', the zither master Albert Kaesar 'Karina Walz' and Paul Ohlson composed the tunes 'Pamela Waltz', 'Harmony Walz' and the medley 'A Sunday in Bundaberg'.  The Mt Beppo zither player August Gaedtke even recorded a number of his tunes onto a 78rpm gramophone record and it is amazing to hear his skill on the ringing strings when the turntable of the old record player revolves.
Although the zither band tradition had its heyday in the early and mid twentieth century, it has now virtually disappeared into the bush from whence is sprung. It is very heartening to see that the Apostolic Church Bundaberg String Band is still today playing for both Church and community functions.  Gavin Lerch is the zither player and he has been mastering the instrument for a number of years.  With such a strong heritage in this unique ensemble the future of the string band repertoire is assured.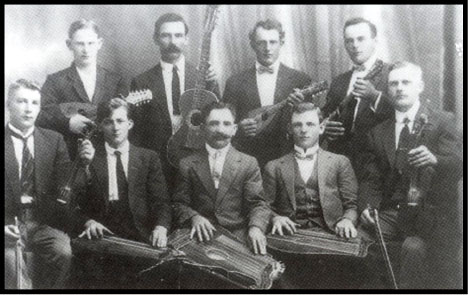 Early Baffle Creek string band, zither master Paul Ohlson seated at right front of picture.
Photograph taken about 1919.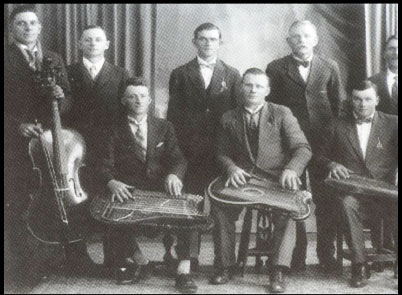 Baffle Creek string band, 1930s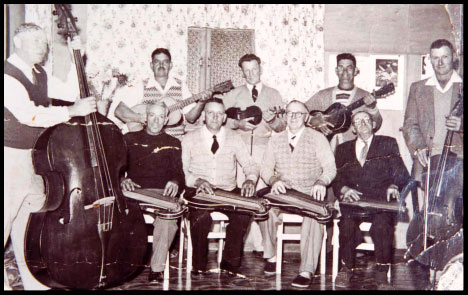 Bundaberg string band, late 1950s.  Paul Ohlson,
right centre seated and son-in-law Robert Pukallus,
seated 2nd left.
Zither master Albert Kaesar of Brisbane with Mrs Wood,
daughter of his musical partner, Herr Hettrich.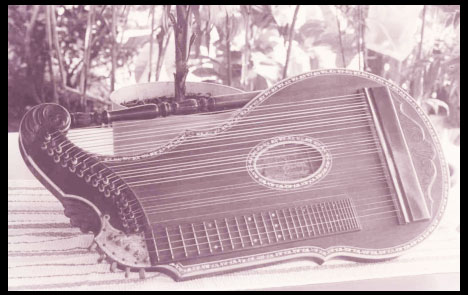 Concert zither once owned and played by Gus Kamradt, Maryborough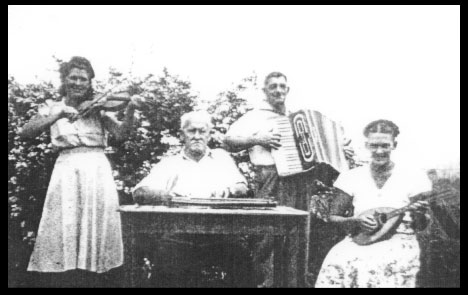 Philipp Netz, zither player of Mulgildie with his 'family' band.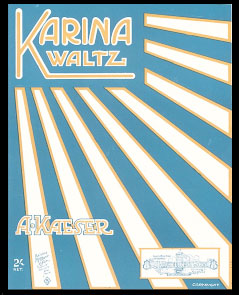 'Karina Waltz', composed for zither by Albert Kaesar, Brisbane.