A  Family Tragedy
Many German pioneering families had very hard and tragic times, but perhaps the most tragic cases of all concerns the Wanka family. Inthe Old Church of England Section 2 portion of the extensive Drayton and Toowoomba Cemetery are four unmarked burial plots – the last resting place of 6 members of the Wanka family.
Johann and Pauline Wanka, with their young son Franz (aged one year) had emigrated from Germany on the 'Charles Dickens' which berthed at Maryborough on the 4th September 1877. Aged 26 and 19 at that time, Johann and Pauline obviously made do in the new land.
It was to be expected that little would even be heard of their lives and fate. However a tragedy was to befall the family. Little written information is recorded from the time but we do know that in 1900 a notice of deaths at the Toowoomba Hospital stated: '…John Wanka, 45 yrs, admitted Feb. 9, died Feb. 9; Paulina Wanka, 45 yrs, admitted Feb. 9, died Feb. 13; Ernest Wanka, 8 yrs., admitted Feb. 9, died Feb. 12; Violet Wanka, 11/2 yrs, admitted Feb. 9, died Feb. 18; John Wanka, 16yrs, admitted Feb. 9, died Feb. 18; Paul Wanka, 10yrs., admitted Feb. 9, died Feb. 13.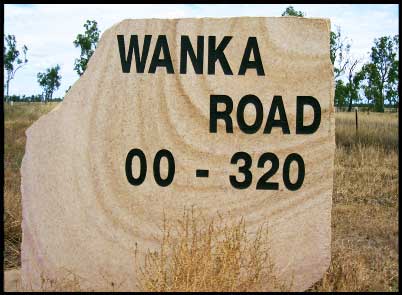 Wanka Road in the Tipton area, southeast of Dalby

The last, unmarked, resting place of the six members of the Wanka family. The tragedy ended with their virtually unnoticed burial in the Toowoomba and Drayton general cemetery in 1900.
What happened on that dreadful day of February 9th 1900, or a few days prior, can only be guessed at, but is highly likely, according to local oldtimers, that all members of the Wanka family died due to eating flour laced with arsenic that was mistakenly given to them. Local lore has it that the flour was meant to be given as 'rations' to the local indigenous people who travelled through the Jondaryan Station area. No coroners enquiry was ever undertaken and the deaths of these German immigrants and their family hardly rates a mention in the Toowoomba Chronicle!
Franz Wanka, who was a baby when he arrived with his parents in Maryborough would have been a young man of about 25 years at the time of his parents and siblings deaths. Whatever happened to Franz is not known at the time of writing.