Lost in the Bush – a Doctor's Story
Born on 6 April 1837 at Hesse-Cassel in Germany, Dr William Henry (Wilhelm Heinrich) von Lossberg journeyed from Hamburg to Brisbane in 1863 as surgeon-superintendent on the ship, 'Alster'. A bachelor at the time, Dr von Lossberg soon took up residence at a private boarding home in East Street and began what would be a long medical career in the Ipswich area. He was known for his willingness to travel to outlaying stations by horseback and on one occasion shortly after his arrival, he rode to Nanango to treat a patient. As well as his medical endeavours, Dr von Lossberg was also an elder of the Ipswich Lutheran congregation and was chairman of the committee who were influential in organising the erection of the first Lutheran Church in Ipswich. It was most unfortunate then, that on Sunday, 26 June 1864 – the day of the dedication of the St John's Lutheran Church – the good doctor was lost in the bush.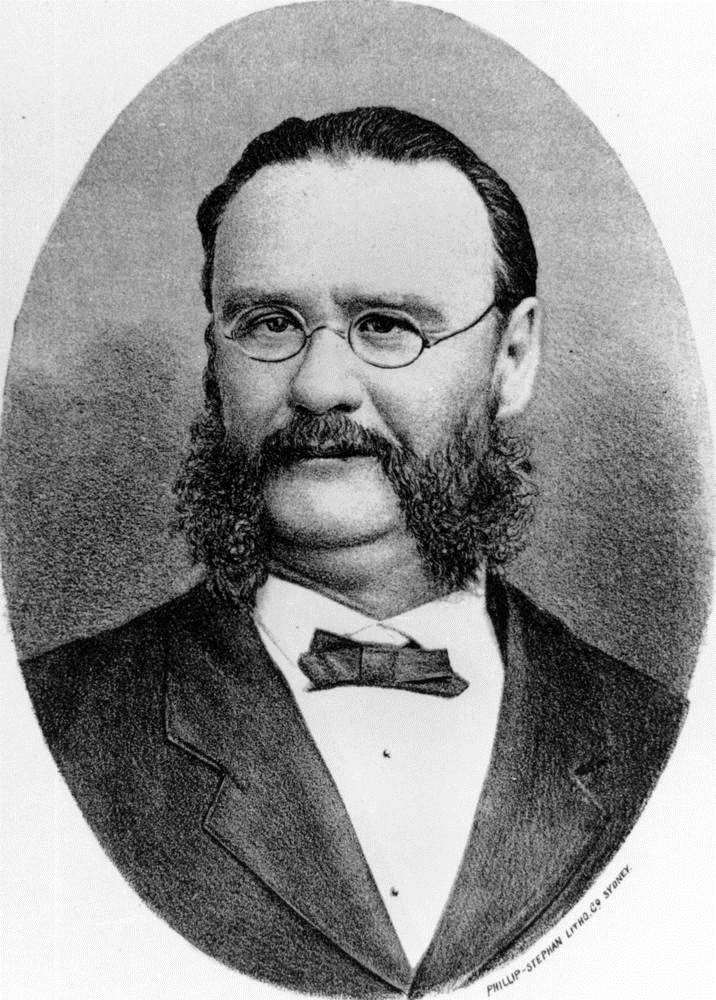 Sketch of William Henry von Lossberg – Image courtesy of John Oxley Library, State Library of Queensland Neg: 167328
The doctor had left Ipswich with a guide on 22 June to travel approximately 80 kilometres to Telamon Station near the headwaters of the Logan River. The reason for his visit was to amputate the arm of one of the station's employees. Having performed the operation, Dr von Lossberg began the return journey alone and it was then that he ran into trouble. As he began to cross a sandy creek, the doctor's horse sunk right up to its saddle-flaps and despite his best efforts, he was unable to free it. With great reluctance he left the horse behind and went in search of assistance. It was at this time, wandering alone in the bush, that he became lost. The further he walked, the thicker the bush became and adding to his difficulties, his matches were sodden during his attempted creek crossing, making it impossible to light a fire or his beloved pipe.
Dr von Lossberg spent five days and nights lost in the bush, without food or water, apparently chewing on leaves to quell his cravings of hunger and thirst. Since it was winter the nights were cold and as time passed, his condition weakened and he began to lose hope. On the sixth day, Dr von Lossberg sat on a log and composed his last will and testament and letters to his family in Germany. While doing so, he was disturbed by what he thought were the sounds of nearby animals. As he stumbled off to investigate, the doctor not only discovered a flock of sheep but on his way towards them, he came across a most welcome sight – a creek. Having drunk his fill, Dr von Lossberg was washing himself in the creek when an aboriginal man spotted him and then, without a word, ran off. In his weakened state, the doctor lay on the bank of the creek not knowing when, or if, help would return.
Thankfully, the man returned in the company of Charley Watkins, a hut-keeper on Maroon Station. With the assistance of both men, Dr von Lossberg made it to Watkin's hut where he ate his first meal in six days – cold turkey and damper. He even got to enjoy a smoke. Charley then took the doctor up to the head-station, but the family were themselves in Ipswich, at the annual June races of the North Australian Jockey Club. He slept that night in a comfortable bed and the following morning, he left Maroon station, having been provided with a horse and meticulous directions to Coochin Coochin station.
The doctor arrived safely at the station, and after spending another comfortable night, he travelled onto Dugandan. Although he was treated most kindly there by Mrs Macquarie Macdonald, Dr von Lossberg did not stay and instead rode on. It was at this point that he once again became lost. Luck was on his side as he accidentally stumbled across an Aboriginal camp. One of the people there offered to to be his guide for 2s.6d. (25 cents), although this price was increased to 6s. (60 cents) during the journey. On their arrival at Peak Mountain Station, Dr von Lossberg met up with Mr William Watkins as well as one of the policemen who had been combing the countryside for him. Together they returned to Ipswich where Dr von Lossberg resumed his normal work, having missed the dedication of the church.
Information taken from: "Dr William Henry von Lossberg" Queensland Times (1-11-1913); "The Ipswich Hospital 1860-1991 by Ross Patrick and St John's : God's Gracious Story of 150 Years of Lutherans in Ipswich by Tim Jarick. Full article posted 21 June 2016 on the website of Ipswich City Council library.