In Search of Hermann Lehfeldt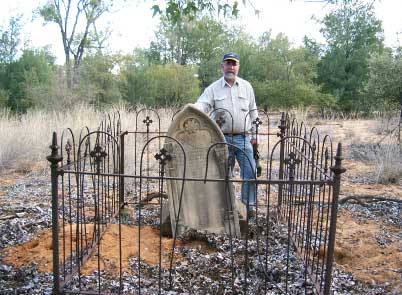 Lonely grave of Hermann Lehfeldt, located in the bush near the Alice River, Barcaldine.
Typical of the tragedy and lonely resting places of many our German pioneers is that of young Hermann Lehfeldt. Twin brothers, Hermann and Carl Lehfeldt, both 18 years of age, arrived on the 'Charles Dickens' in 1879. Hermann became a railway fettler in outback Queensland and assisted in building the Emerald – Barcaldine line.
On the Alice River, 54 kilometres east of Barcaldine, are the graves of two workers who died in 1886 whilst the line was under construction. After two very hot and sweaty afternoons of searching the lonely bush clad ridges of the Alice River I came across the last resting place of Hermann. His grave was enclosed by wrought-iron surrounds, the headstone reading: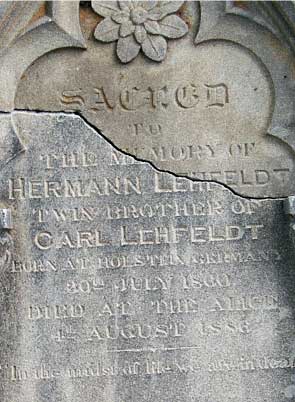 "Sacred to the memory of Hermann Lehfeldt, twin brother of Carl Lehfeldt, born Holstrum Germany, 30th of July 1860. Died at the Alice 1st August 1886."
Whether his brother worked with him on the construction is not known, but Carl lived many more years in Queensland. Many German pioneers who developed our wonderful country now lie at rest in many isolated parts of the Queensland bush.